Hello Hello! 
I receive about 50-75 new emails/Etsy messages a day with very simliar questions so I thought why not make a blog post with the most common questions and their answers! Therefore, if you don't get a response from me as quick as you need, you can refer to this Q&A post! If you don't find the answer you were looking for, please message me again and I will do my best to answer you question! 
A: Yes I do! Unforutanely right now I am booked until October 1st! Please contact me after October 1st if you are still interested in placing a custom order with me! 
A: Due to getting between 100-200 new orders a day, we are trying our best to get everyone's orders out as soon as we can. Right now, order turnaround time is 2-3 weeks because we are shortstaffed and each order takes time to fill! Also another reason why your order may be taking a few extra days to ship out is due to inventory being sold out. Since my business has grown to the size it is now, I no longer print the stickers myself. I work with a printer in Sweden and get my inventory printed with them! Meaning as soon a sticker is sold out, I have to wait 5 days to get my restocks in! Your order may be put together and is just waiting for that 1 sticker to arrive from my printers! Once your entire order is ready to go, it will be mailed out! 
A: Due to COVID, the postal service has been experiencing delays and misplacements. Once I ship your order and it is in the postal service's hands, there is nothing I can do. Once shipped, it will usually take 5-7 business days to arrive due to everything going on. If you message me and I see that it has been over a week since I shipped it, we will figure out a solution to this problem! We will check the address to make sure it is correct or I will remail the order to you! 
A: Yes I do! International shipping does take a bit longer to arrive once shipped. Normally it takes 3-4 weeks but since COVID it now takes 4-5 weeks to arrrive!
A: Yes, only if you choose to pay for tracking. If you are only buying stickers, they do not come with tracking unless you spend over $40. Since shipping cost with tracking is $3, I didn't want everyone to have to pay the $3 shipping cost if they are getting say 1 mini sticker which is $1. In every single sticker item description it states that this item does NOT come with tracking. Please message me and I will direct you to where you can add tracking to your order! If you order anything else like a keychain, print, book, or anything other than stickers, you WILL get a tracking number! 
A: Yes you can! Please contact me as soon as you can and I will update it on my end! 
A: As it is stated in the item description when you bought the item "Note: This item is print on demand, which means it is printed and shipped by my printer. I never see the item. If you order stickers/prints/coloring books with this item, you will receive 2 separate packages! Therefore, that is why you will not get you entire order together! The turnaround time for a print on demand item is set by the printers which they said due to COVID19 it is now 1-5 weeks. I am unable to change that as they are the ones who control printing and shipping of this item! Once the print on demand item is shipped, you will get a separate tracking number in your email."
A: Unfortunately on Etsy there is no easy way to do that. You will have to place another order! 
A: When you purchased the mask, it clearly stated that it was a PREORDER and that the turnaround is 4-6 weeks due to every single one being handmade. A few weeks ago I messaged everyone who ordered a mask a few updates! "Just wanted to reach out to you regarding your mask order! Thank you for being so patient! The black and white fabric I designed is custom printed by the company Spoonflower. I ordered my fabric for the masks on May 3rd! It is now the 25th of May and I still haven't gotten the fabric yet, so masks are still on hold. I am so sorry, my plan was to get all the masks out by this week but that was if my fabric arrived when it was supposed to! I emailed the company and they said they will give me an update next week. Fingers crossed the fabric is mailed out next week so the masks can be made and shipped out! Again, thank you so much for supporting my business and being so patient with me! :)" Then I sent out a new update:  "Here is screenshot below from Spoonflower themselves saying that I won't be getting the fabric until June 15-19. I am so upset over the fact that the masks won't be going out until July because we have over 800 to handmake! I am so sorry, this was not what I expected at all! I really hope you understand and if you want a refund, I totally understand! This was not the turnaround time I stated on my website, but I also didn't think there would be a delay with the fabric! Again, I am so sorry and you can then let me know if you would still like the mask or if you would want a refund."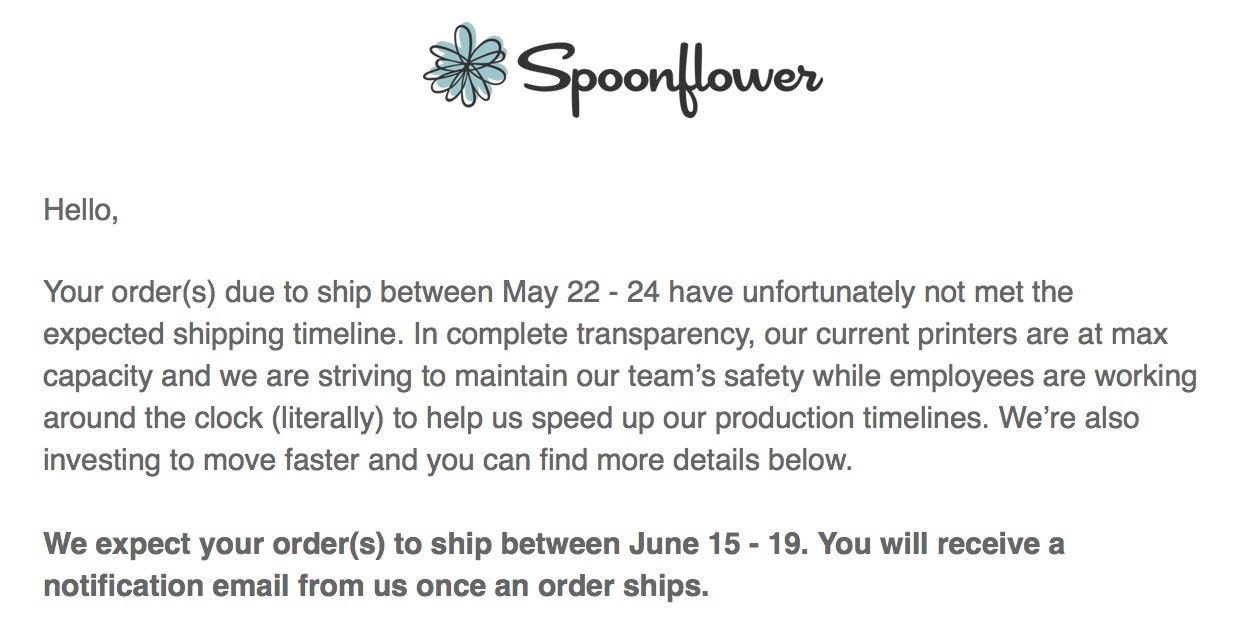 Like I said up at the top, if after reading through these Q&A's and you still didn't find your answer, please message me again in the same message box you did the first time you messaged me! Due to how many messages I get a day, the response time is 48-72 hours! Look forward to talking with you! 
Thank you so much for supporting my business! :) 
Brita Lynn Thompson 
Zenspire Designs